Here you will find our available Lesson Horses.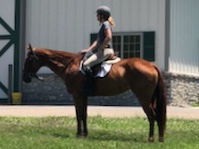 Maria 20yr mare 15.3 hands located in Franklin, TN
Maria has had a glorious success in her high goal polo career! Now it is time to take it easy and enjoy life. She  is very special. Maria would be the best therapy horse. She is up to date on coggins, vaccines and farrier. She does have glaucoma in her right eye which has caused her polo career to end. If you are interested in adopting her and keeping her forever please call 615-618-8316  MARIA HAS BEEN ADOPTED BY GREATSTRIDESOFSHELBYVILLE.ORG 🙂
Le Plaix 15yr gelding located in Franklin, TN
Le Plaix is a sweet heart with great ground manners and loads in the trailer very easily. He has many potential light easy careers! Fox hunt, trail ride, beginner lessons or therapy horse. Before a beginner jumps him professional guidance should be required. He is up to date on coggins, farrier and vaccines. If you would like to adopt him please call 615-618-8316. LE PLAIX HAS BEEN ADOPTED BY LOCUSTRUNSTABLES.COM 🙂
Pikachu- Appendix, 6yr gelding, 15 hands, located in eastern USA
Pikachu has been very well taken care of the past 5 months. His owners bought him at an auction for the purpose of polo cross. He was previously a polo pony. But unfortunately, (it seems) he has had a bad experience in his past life which has caused him to be very timid, nervous and head shy. He has good confirmation, but has not been conditioned properly so left lead canter needs a lot of work. The past 90 days Pikachu and his loving family have been committed to a ground work program trying to encourage him to love life and trust people! Due to the family relocating it is time for them to find him a new home, with an honest trust worthy family who can teach him how to enjoy his new career!
If you are interested in ADOPTING this ReplayPolo Pony, please complete an adoption application by CLICKING HERE.