Thank you to all the services, products and finances that have been contributed to support ReplayPolo's mission:
"Our horses do their best for us; we should do our best from them."
Animal Rehab Institute
https://animalrehabinstitute.com
EDUCATE YOURSELF AND HELP YOUR HORSE! ANIMAL REHAB INSTITUTE OFFERS MANY CERTIFICATIONS:
The Certified Equine Rehabilitation Therapist (CERT) is for Veterinarians, Chiropractors and Physical Therapists.
The Certified Equine Rehabilitation Assistant (CERA) is for Veterinary Technicians and Physical Therapist Assistants & Bs Equine Science graduates.
Equine Massage Therapy Certification is open enrollment anyone with a love for horses can gain this Certification.
The founder of ReplayPolo, Brittany Halstead is a graduate of Animal Rehab Institute and holds the Certification in Equine Massage Therapy. Please check out this school we highly recommend it.
ReplayPolo's mission is: "Our horses do the best for us, we should do our best for them."
Animal Rehab Institute helps us achieve our mission with Arlene White and many other world renowned equine specialists wealth of knowledge.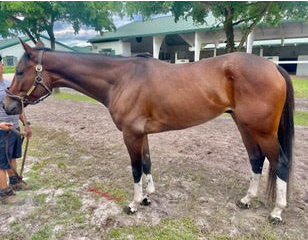 Cavalor Academy
Cavalor grain and supplements has changed a 3yr off the track thoroughbred, named Socks, to be a happy healthy boy!
First we started with a 25 day detox with Cavlor Hepatoliq, a liver and kidney cleanse. It took Socks 2 hours to finish grain and 2 days to finish hay. His stomach was not settled. He was fed FiberForce and Strucamix Senior. Then added Cavalor Weight Grain grain.
4 months later, he loves eating all his grain in 10 mins and all his hay over night. He has gained a few hundred lbs and ready to start work!
Stay tuned for his progress, he is entered in the Thoroughbred Makeover in October 2023. https://www.therrp.org/
United States Polo Association
In keeping with the spirit of philanthropy, U.S. Polo Assn. provided funds to the winner and runner-up teams of all three finals to be donated to a polo charity of their choice.
In 2021 and 2022, ReplayPolo 501c3 was chosen by winning team Park Place. These financial donations funded supplies for Replaypolo ponies to remain living in high equine welfare.
Wish us luck in 2023, to be chosen again.
THIS PRODUCT HEALED SOCK'S, (The 3yr old Retrack Thouroughbred) hooves from living in a wet paddock and enhancing foot growth!!! Thank you for the sponsorship!
YOU CAN USE IT TO TREAT YOUR HORSES HOOF ISSUES OR AS A PREVENTION ! IT WAS DEVELOPED SPECIALLY FOR AREAS LIKE FLORIDA WITH HIGH LEVELS OF HUMIDITY . DESCRIPTION: This exclusive EQUI – CARE product was developed for the Daily Care of Hooves, avoiding the generation of fungi or bacteria caused by humidity. IT IS A READY TO USE COOPER SULFATE GEL, that will help you keep your horses hooves healthy.
DIRECTIONS: Apply with a brush on the hoof. Leave the animal on a clean surface for a better result. If there is a problem in one hoof probably the others also may have or start having the same problem. Apply the product to prevent it. If the problem persist call the vet to check them. TIP: Use once or twice a week to prevent this kind of problems. Combine with EQUI – CARE ́s Hoof Conditioner to keep the hoofs healthy.
FOR ANY QUESTIONS ABOUT THIS PRODUCT, PLEASE CONTACT OUR SALES MANAGER TO PURCHASE: MARINA MONTI 561-234-3505. equicareusa@hotmail.com